Help 40 Days for Life reach more of the community by posting a yard sign in front of your home, church or business! We know of instances when babies' lives were saved as a result of these yard signs, so the long-term results of your simple act of posting a yard sign could be very significant. Our durable yard signs are available during 40 day prayer vigils at the southeast corner of 25th and H Streets, so please stop by and pick one up at any time which is convenient for you.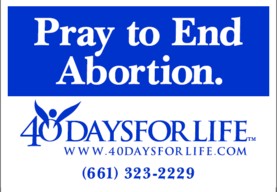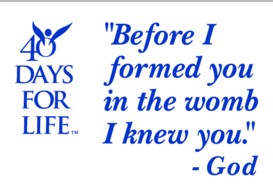 If at any point you no longer need your yard sign(s), please contact us at 661-323-2229 or bring them back to us at 2428 H Street in downtown Bakersfield.
The cost of the signs is being covered by our daily sponsors, but if you wish to help, the suggested donation is $5 per sign.